BOOK YOUR PLASMA FIBROBLAST APPOINTMENT NOW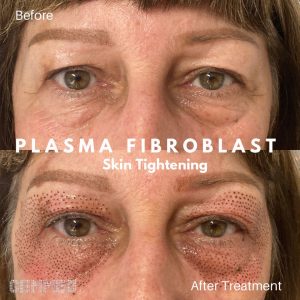 What is a Plasma Fibroblast Skin Tightening Treatment?
The plasma fibroblast skin tightening is an effective non-surgical treatment to eliminate signs of aging including sun damage, photo-aging, wrinkles, and excess skin. Similar to other skin rejuvenation treatment (microneedling, peels, lasers), it uses body's natural healing process to increase collagen and elastin production. The plasma pen device is used to discharge nitrogen plasma to the epidermis and dermis layers of the skin that creates microscopic skin trauma. The controlled damage to the skin created by plasma will appear like a carbon crust on the skin surface right after the treatment. The natural process of the skin after an injury is to heal where fibroblast cells begin to work by increasing its collagen production that results to tightened skin.
How does it actually work?
First, you need to understand how the skin ages. Our skin has 3 layers, the epidermis, dermis and subcutis. In the epidermis, the process of skin colouring happens due to its pigment producing cells called melanocytes. The dermis is made up of collagen and elastin fibres which are responsible for skin elasticity and strength.

As we age, the epidermis becomes thinner which makes blemishes like sun damage, old acne scars, and pigmentations become more visible. In the dermis, we starting to lose collagen which results to facial lines, sagging skin and wrinkles.

Within the dermis, the fibroblast cells can be found which are responsible for generating connective tissue and allowing the skin to recover from injury. The normal wound healing key processes are breaking down the fibrin clot, creating new extra cellular matrix (ECM) and collagen structures to support the other cells associated with effective wound healing, as well as contracting the wound. The wound contracting process tightens the skin when it is fully healed.

In plasma treatment, a plasma pen handpiece which is an ultra-high-frequency generator, ionises inert atmospheric nitrogen into an active plasma that delivers controlled thermal energy to the skin. The microscopic damage to the skin stimulates fibroblast healing process which results to increased collagen production. Once the collagen is produced, the skin strength and elasticity improved.
What Plasma Fibroblast can treat?
The plasma fibroblast treatment can improve the appearance of aging skin such as facial lines, excess saggy skin, wrinkles, and pigmentations. Below are the common signs of aging:
Hooded saggy eyelids
Undereye wrinkles
Forehead lines and wrinkles
Crowsfeet
Wrinkles and saggy skin around nose and mouth area
Wrinkles and saggy skin in other parts of the body like neck, stomach, hand etc
Asge spots and discouloration (hyperpigmentation)
How long the Plasma Fibroblast effect lasts?
Plasma fibroblast treatment can last for 2-3 years at least until you start to lose your natural collagen again due to aging. The plasma result is also progressive which means it continues to improve months after the initial treatment. You can support the longevity result of plasma by taking other collagen inducing treatments like facials or supplements.
How many course of treatments do I need?
The result of the treatment varies on everyone. Some clients can see improvement in their skin with 1 session only, while some clients would need 2-3 sessions for best results. It is safe to plan for at least 2 sessions with 2-3 months interval.
Can plasma pen leave scars?
The fibroblast treatment cannot directly cause scarring unless the skin is not properly taken care of during the healing process. The scars can occur when the treated skin is directly exposed to the sun or the dots are forced picked and scratched. It is important that you follow the aftercare carefully.
How do I prepare my skin for the treatment?
It is important that you have already taking care of your skin prior to your Plasma treatment. The skin in good condition heals properly which gives better results.

* Start taking Vitamin C to condition your body's natural healing process

* If you have not started using sunscreen SPF 50, please start wearing now to protect your skin and the treated area from sun damage

* Exfoliate your skin 2x a week before your appointment to remove dead skin cells

* Don't wear makeup on your appointment day

* Moisturise daily and night

* Wear sunglasses when you come to your appointment to protect and hide the eye area  when you leave the clinic

* No skin tanning 2-4 weeks before your appointment

* No other aesthetic procedure to be applied in the same area that wish to be treated with Plasma

* No Botox or fillers 21 days before or after treatment.

* No microneedling for 4 weeks before or after treatment.

* No laser or peels for 8 weeks  before or after treatment.

Please get yourself these products that you can use after the treatment, in case you experience some swelling, pain and extreme dryness. These products can lessen the discomforts during the healing period.

1. Paracetamol for pain and headache

2. Benadryl for swollen eyes

3. Aloe Vera gel to reduce skin inflammation and irritation

4. Hyaluronic & ceramides serum or cream to heal skin barrier (optional for added hydration)

5. Gentle cleansers (cetaphil or cerave)

6. Mineral Sunscreen SPF 50 (ex. Avène Very High Protection Mineral Fluid SPF50+ Sun Cream for Intolerant Skin 40ml in Boots)

7. Hydrating moisturisers (cetaphil or cerave)

8. Vitamin C serum for face (after 1-2 weeks, when the dots have fallen off, you can start applying Vitamin C to lighten and fade the small dotted scars

9. Cooling eye mask – wear these when you get home to reduce swelling the next day

10. Big hat – to have something to wear to protect your face from the sun
How I can take care of my skin after plasma treatment?
Let the area dry for 2 days. Only apply SPF 50 on top in the morning.
After 2 days, cleanse the area gently using mild cleanser (ex. Cetaphil sensitive skin, no perfume products)
Apply aloe vera gel/cream, mild moisturiser and SPF 50 daily for 7-10 days until the scabs fall off. Apply aloe vera 3x a day for more hydration.
Once the scabs fall off, continue to apply moisturizer and SPF 50.
Once the pink skin (new skin) turned into normal color skin tone, you can start applying Vitamin C serum to lighten any pigmentations left by the plasma pen dots.
You can add Hyaluronic Acid serum in your skincare routine before applying moisturiser for extra hydration and to aid the repair of skin barrier.
A high factor sunscreen (SPF50), or sunblock should be used daily to protect the skin. It is also advisable to wear a hat
Resume your Vitamin C serum and Retinol skincare products after 10-14 days, as long as the skin is not too sensitive anymore.
After 4-6 weeks, asses the skin, if there's any pigmentations left from the treatment, you can book for facial to help lighten or improve the texture of the treated area. Healed result can be seen after 2-3 months.
What to avoid…
Avoid the use of products containing glycolic, lactic acid, salicylic, retinol or benzoyl peroxide for 4-6 weeks post treatment
Avoid become overheated and perspiring excessively by refraining from using steam rooms, hot tubs, saunas, very hot baths/ showers, and steamy kitchen in the first week following treatment
Avoid swimming in chlorinated water for a week following treatment
Avoid picking, scrubbing, exfoliating and abrading sensitive or peeling skin during healing process, as this may result in irritation and increase the risk of pigmentation changes and scarring
Avoid applying make-up during the healing process of the skin which can be 10-14 days. The skin can be sensitive and flaking.
6. Avoid exposing yourself to the sun or sunbed for least 4 weeks after treatment to reduce the risk of hyperpigmentation (brown blotches on the