BOOK YOUR EYELINER APPOINTMENT NOW
Classic Eyeliner Semi-Permanent Makeup
Everyone loves eyeliner as it makes your eyes look more defined, younger, bigger, and even dramatic! The only downside of wearing eyeliner makeup is that it can be smudged off anytime and you end up having panda eyes! This is why eyeliner semi-permanent makeup is the perfect solution for sweat-proof, smudge-proof, and water-proof eyeliner makeup.
WHY you should treat yourself with eyeliner semi-permanent makeup?
You don't have time to apply your eyeliner makeup
Your eyeliner makeup is giving you a smudge "panda look" eyes
You have hooded or very deep eyes that are difficult to apply eyeliner on
You don't have stable hands to perfectly draw the eyeliner
You don't have lashes or starting to lose lashes
You have sensitive skin that is not allowing you to wear makeup
You have or starting to have some visual problems that limit you on applying your eyeliner properly
You are an active person that is looking for a water-proof and sweat-proof makeup
---
What Is a Semi-Permanent Eyeliner?
Also known as eyeliner tattoo, semi-permanent eyeliner is a form of cosmetic tattooing treatment for eyelids to create the art of eyeliner makeup, using a disposable needle and a semi-permanent makeup machine. A darker pigment, usually black, is applied to the lashline and eyelids in a sharp and crisp, thicker outline. The eyeliner usually lasts between 2-5 years and can be done in one session only.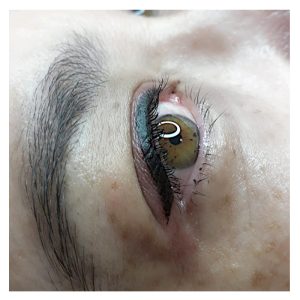 ---
What is a Classic Eyeliner Style
There are different styles of semi-permanent eyeliner makeup but I only offer the technique with the most effective result for my clients which is the Classic Eyeliner.
Classic Eyeliner is thicker than lash line style, usually 2-3mm thick from lashline to the eyelids. It has a basic wing effect at the outer corner of the eye to elongate the eye shape.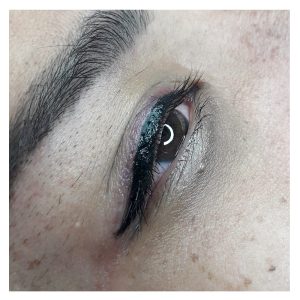 ---
Contraindications
Semi-Permanent Eyeliner Makeup is NOT recommended for any clients who are or have:
If you suffer from Glaucoma
If you just had EYE SURGERY (Lasik, Cornea repair etc), which you will need to wait at least 6 months before the treatment
If you are currently using any eyelash growth serum which can cause hypersensitivity on the skin and excessive bleeding; please discontinue 3-6 months before the treatment
Covid19 viral infection or have been isolating with a family member who has the infection
Blood-born pathogens such as AIDS, HIV, Hepatitis, etc.
Dermatological disorder such as Shingles, Rosacea, Eczema and Psoriasis, Seborrheic dermatitis
Raised scars such as keloid and hypertrophic scars, or likely to have one – please check all the scars in your body
Medical conditions: Auto-immune disease, insulin-dependent diabetics, seizures epilepsy
Pregnant or Nursing
Allergic to anaesthetic (Lidocaine)
Anti-ageing injection in the past 3 weeks
A Pacemaker or major heart problems
Organ transplant
Anxiety / bipolar disorder
---
Color
I only use Black pigment for better color retention. It's a universal color that compliments all eye colors. The black pigment won't have an intense color when healed as when they are freshly done. It retains more color compared to other lighter colors such as brown that can leave traces of red color in a few years time.
---
Shape
The shape is similar to the outline of your upper eyelids with a basic wing at the outer corner of your eyes. The wing is limited to the folds of your eyelids; the bigger folds you have, the shorter is the wing. The thickness can be from 2-3mm from the lash line to the eyelids, just enough to give you a similar eyeliner makeup effect when they are fully healed.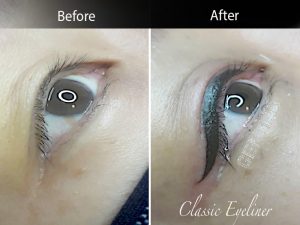 ---
Healing Process
Please be aware that your eyeliner will be thicker during the first week of the healing process due to swelling of the skin. The eyelid has thinner skin making it swell more than the eyebrow area. You will experience swelling in the first week and subsides in the following days and weeks. It's very easy to maintain, just leave them as they are!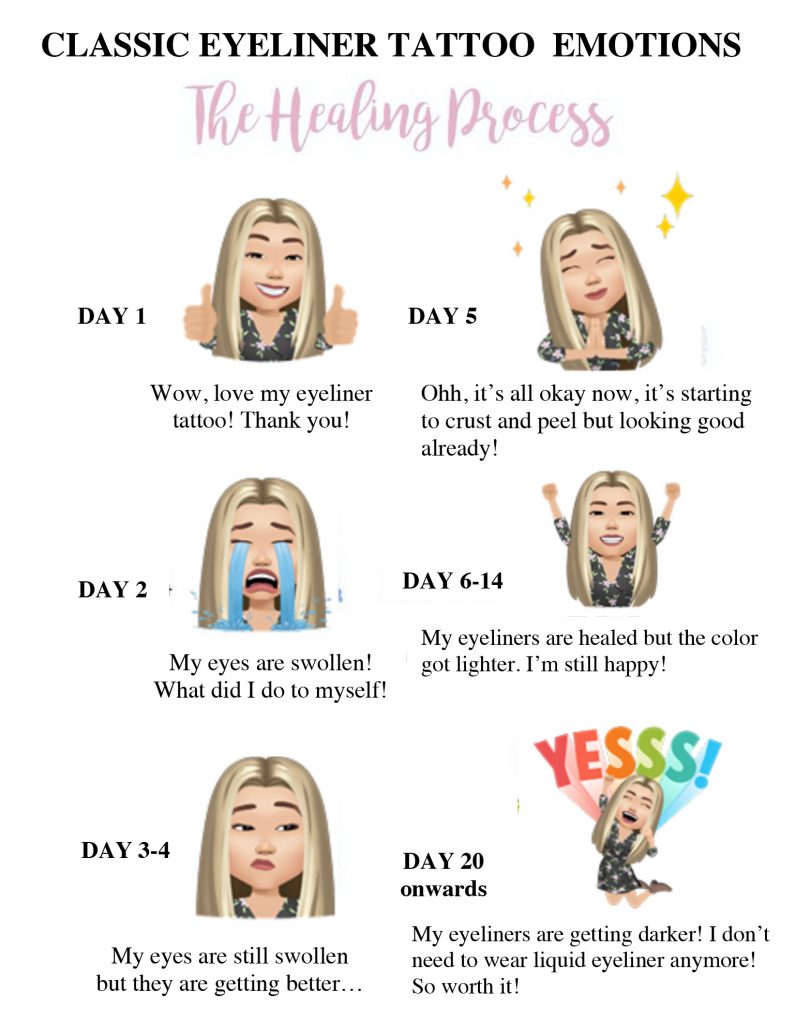 ---
Pre-care
Before you come to your appointment, we would like to prepare you for the procedure to avoid excessive bleeding, skin hypersensitivity, or pigment rejection during the treatment.
Please remember the things to do before your appointment:
Protect your eyes from dust, insects or scratches that can crea eye abrasion
Don't wear eye makeup, mascara or lash extentions
Don't wear contact lenses during the procedure
Do not use lash enhancing serum at least 3-6 months before your appointment
Do not drink alcohol or caffeine 24 hours prior to your procedure (these are natural blood thinners that can cause excessive bleeding during the treatment)
Do not take Aspirin, Niacin, Vitamin E, Fish Oil or Advil/Ibuprofen 48 hours before your procedure – unless medically necessary (these are blood thinners as well)
Do not have anti-ageing injection in the eye area 2-3 weeks before your appointment.
No tanning 2 weeks before and after treatment, this can affect the colour of the ink when healed.
Do not workout on the day of your treatment
Be prepared for your eyes to be swollen in 3-5 days.
Have something to eat before the procedure as it will take 2 to 2.5 hrs session
If you are not feeling well and having flu-like symptoms, please cancel at least 24 hrs to re-schedule.
---
Post care
DAY 1 – Put ice around your eyes to reduce swelling. Make sure you cover the ice with clean plastic or sheet. Pat dry your eyelid.
Day 2 – Wash your eyelids with mild cleanser very gently to remove lymphs or dry blood.
Your eyes will still be swollen and sore, put warm compress around your eyes avoiding the eyelid to reduce swelling.
Day 3-5: Your eyelids will start to crust and peel, continue the wash every morning. Don't rub your eyes when they are itchy.
Day 6-7: The peeling might have finished.
NOTE:
Use ointment if you need to or just leave them as they are.
Less touching is better as they are tender for few days.
Avoid crying; tears are salty and will be painful for your eyelid.
No eyeshadow or eyeliner during the healing period.
Colors will get lighter first and become darker again.
---
Maintenance
Use good sunscreen. Sun exposure will fade your semi-permanent cosmetics.
If you are planning a chemical peel, laser procedure or MRI scan, please inform the technician of your permanent cosmetics.
Please inform the National Blood Service if you donate blood, as you may not be eligible to give blood for a year post-application.
After 12 months, your semi-permanent makeup might have faded or have become thinner, you can come back for a top-up and colour boost.
BOOK YOUR APPOINTMENT NOW